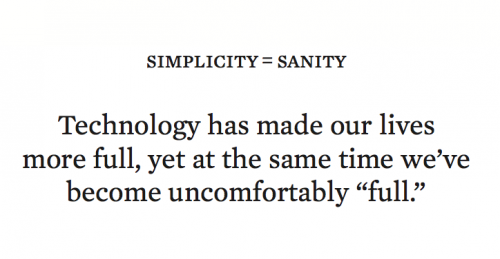 The quote above is by John Maeda who wrote an influential volume on the laws of simplicity. The way I look at it, simplicity is the cousin of peace and focus. You need both to keep your sanity. My challenge is and has always been with simplifying my life, letting go of the things that don't matter as much to allot importance to the things that really matter.
When we feel overwhelmed we can't perform our best, our minds are always confused as to what to tackle next and we half-ass everything. As many props as I'd like to give myself, I've recently realized that I've half-assed my career and life up to this point. I wanna do it all, and everything ends up half-assed by my standards. No more. No more being "uncomfortably full," better to live simply yet powerfully.
What are you half-assing? What useless activities are you investing time in? How many weak hands are you playing, instead of putting all your chips on just one or two that really matter?