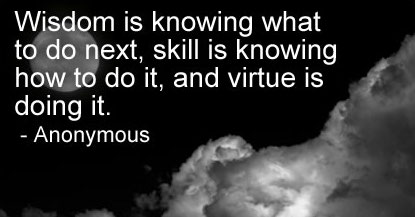 Plain and simple. If you're not where you want to be yet it's because you're not executing in one of these areas. You can be skilled and a move-maker, but if you're not aware of what the right moves are then you're wasting effort. Education and reflection will solve this.
If you need to pick up the skills to reach your goals then practice is your remedy.
And the hardest part of all is virtue. Many smart and talented people fall short because they don't have the virtue of work ethic. Hard work and showing up day after day are the missing piece to the puzzle of life we're all trying to solve. This is where I'm dedicating my time to as of late, just putting in the work that I know is needed AND that I'm skilled enough to do. Without excuses, without self-defeating attitudes, without second-guessing myself.
If you put in smart-hard work you can never be a victim of circumstance for too long. Spend 15 minutes today in meditation and self-reflection as to what needs to get done for the week and I promise you'll feel a lot more fulfilled by Sunday.
As always though, enjoy the ride!!